The body will shine if the food is fine...
Why this vegetarian food dish at Solaré's website ? because a healthy mind and spirit needs also healthy body and food full of natural vitamins and minerals.
But colour of the food has a huge effect on or energy systhem and Chakra's
And the thoughts you have while making your dish with is very important for digestion
You can find all kind of sprouds and eatable flowers and more all unmanipulated at Flora Farm Damme Belgium
Vegetarian food increase your energy vibration
And Bio vegetables and sprouds contain full life energy from mother earth
I do allways Sanskrit food mantra to purify the food before i eat i can teach you this mantra and also what it means.
food is God that's when i try to make something simple more nice with my creativity and hope to inspire others
Check out all the previous dishes
Spinach,carrot and nut mix cake from almond flour
ingredients:
1 pack of almond flour from 300 gram
3 fresh carrot not to big
fresh garlic
1 onion
half a cup of black Chia seeds
olive oil
2 egg's
black pepper and salt
self made nut mix from sun flower and pupkin pits and pine nuts
a small amount fresh grinded spinach
baking pan for oven.
Preparation:
take a big bowl and put the almond flour in it and your cup of black chia seeds and stuer well
put black pepper and salt, or some spicy herbal salt, your fresh garlic,onion,and spinach and 1 spoon of olive oil and put water from a bottle in
not to liquid and put your nut mix.
Clean and cut the carrod in thin slizes and and blanch them for a fue minute in a bit of water and put 1 leave of laurel in it
Now mix the carrots in the bowl and at the last put your 2 egg's in it.
Now put some olive oil in your baking pan for the oven and put everything from the bowl in it
put it on the middle grill for 20 a 25 min on 200 degrees
Let it cool of a bit decorate it at a nice plate And put some self roasted pine nuts on top
You can eat it with some Italian Rucola salad with a bit oil an vinnegar
Very tasty and healthy
Enjoy!
Extra info:
Almond flour is rich in vitamin E and other antioxidants, which help reduce the risk of serious health conditions like cancer, diabetes, stroke, and heart disease.
It's also an excellent source of: Manganese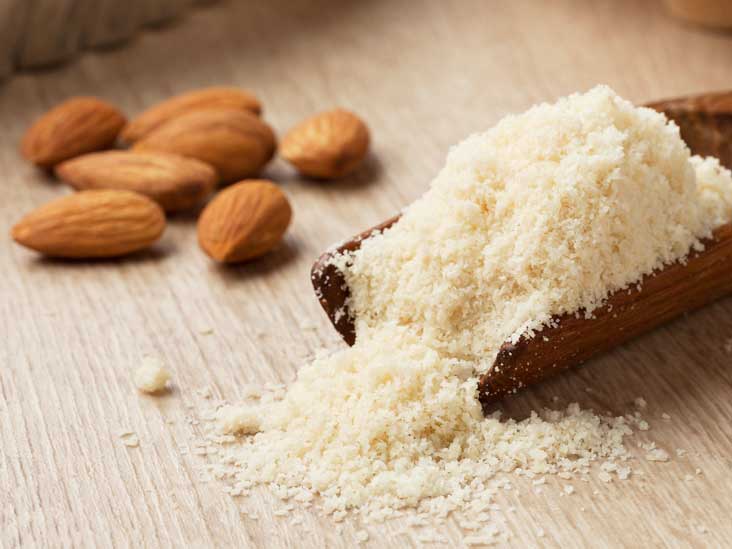 Garlic is widely recognized for its ability to fight bacteria, viruses, fungi, and even parasites.
One study found that allicin, an active component of freshly crushed garlic, had antiviral properties and was also effective against a broad range of bacteria, including multidrug-resistant strains of E. coli.
Spinach is rich in many nutrients, including Vitamin A, Vitamin C, Vitamin K, iron, folate, and potassium.
Spinach is chock full of fiber. Eating too much fiber can cause gas, cramping, and abdominal pain. Spinach is rich in oxalate, a naturally occurring substance found in almost all plants
Chia seeds contain quercetin, an antioxidant that can reduce your risk of developing several health conditions, including heart disease.
The seeds also high in fiber, which can help to lower high blood pressure and, in turn, reduce your risk of developing heart disease.